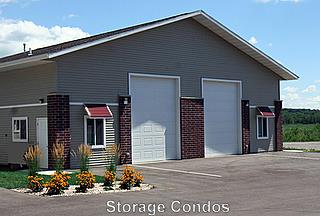 ---
Storage Condos Wisconsin
---
Whether you are looking buy, develop, or rent, this is a listing of all the "Storage Condos Wisconsin".
Storage condos have many uses and therefore attract many different types of buyers. You can learn more about this new real estate concept right here on this site. Access this free buyers guide or development guide depending on your interest.
If you are looking for RV storage, boat storage, extra garage space, etc you will be able to see how the storage condo units will accomodate your needs. Explore the ownership possibilities and advantages of owning your storage and/or business space.
Maybe you are looking to build an outdoor shed and realize that it is not as easy as it seems - a turn key "design-build" that can provide your "personal warehouse" is the answer.
Another name for storage condos is "garage condos" - basically the same thing. As you will see from the listings of storage condos Wisconsin, and in every state, developers are giving all kinds of names to their projects - reflecting and attracting specific buyers.
Be sure to browse the other listings in the other States to see what I mean and to pick the right development for your needs. Below is a quick summary of all the categories of users:
storage shop condos
business bungalows
business condos
workshop condos
garage condos
warehouse condos
RV storage condos
Toy box storage condos
personal warehouse condos
contractor condos
office/warehouse condos
car condos
boat condos
commercial stroage condos
You can see that the categories above attract certain types of users. However, they all fall under the "storage condo" concept. The developments are basically the same except how they choose to market the units and the ammenities they provide.
Below is the complete listing of the Storage Condos Wisconsin.
---
Wisconsin
15 locations throughout Wisconsin

5 locations in wisconsin

Community Garage Condos

Brillion Storage Condominiums

Brillion

Castle Rock Storage Condominiums,

My Big Storage - Wingate Creek,

West Bend

Waupaca Storage Condominiums,

Waupaca

Duluth Ave Condominium Storage Park,

Southeast door county

Springfield Storage Condos,

Middleton area

Village Storage Condominiums,

Fredonia

Condominium Garages,

Green Bay, Appleton

Minocqua Storage Condos,

Minocqua

Wisconsin Storage Condominiums,

Eagle river, New Berlin
---
If you do not find what you want, you can request a location.
If you are interested in developing storage condominiums, StorageShopUSA is looking to establish more locations in Wisconsin.
The areas of focus are the urban areas greater than 50,000 people. line brak cities text Here are the largest cities in Wisconsin - these would be areas for expansion
Milwaukee
Madison
Green Bay
Kenosha
Racine
Appleton
Waukesha
Oshkosh
Other smaller cities and urban areas may be considered. You can contact us to discuss the possibilites. If you are not interested in developing but would like to see some storage condos in your area - request a location.
---
Last but not least, receive insight on new developments regarding the storage condo industry. Sign up for the "Storage Condo Insider".

back to home page from storage condos wisconsin